Home

/

RackStuds 20-pk RSL20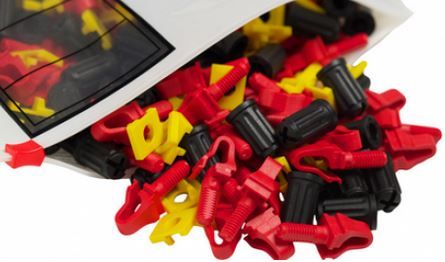 Image for illustration purposes, please see product info
RackStuds 20-pk RSL20
Product Features
Rackstuds™ are the revolutionary replacement for cage nuts which are used to mount IT, Pro A/V, Security, and Telecommunications equipment in 19" racks.
Rackstuds make it much easier to mount your gear because they go in from the front and provide you with a place to support your equipment while you spin on the lock nut. This makes inserting and removing Rackstuds much quicker and assists with mounting even heavy equipment as it no longer needs to be balanced in one hand!
Rackstuds are much simpler, faster, safer and very strong.
Unlike cage nuts, Rackstuds™ go in from the front which greatly simplifies their installation. Cage nuts can be quite tricky to get in, especially when the rack starts to get populated or the rack is in situ with the side panels installed.
Rackstuds can be installed in seconds and are just as easy to remove and reuse. Populating a rack with equipment using Rackstuds is much faster and over the course of a rack build, can save you many hours. A typical network switch can be installed in under 55 seconds!
Rackstuds are also tool free and can be tightened sufficiently by hand, saving you even more time.
We wanted to ensure that mounting equipment up to 20kg (44lbs) was possible. With a safety factor of three, 60kgs (132lbs) was our target shear strength for one stud.
We exceeded our expectations with independent testing by SGS Labs yielding the following results
Rackstuds™ are designed to fit EIA square punched vertical rails with 9.5mm (3/8") holes. Field trials revealed that the hole is unfortunately not standardised and varies between 9.3mm (0.366") and 9.8mm (0.385") so the Rackstuds™ have been engineered to accommodate these variations.
The vertical rail thickness can be up to 2.2mm (0.086") with a recommended maximum equipment faceplate thickness of 4mm (0.157"). For rails above 2.2mm/0.086" like those found in open frames and some Chatsworth and Great Lakes racks, we now have a new version
INSTRUCTION VIDEO
https://www.youtube.com/watch?v=p6CT_WIJW3Q
Customer Reviews and Ratings
No Reviews
Be the first to review this product!