Home

/

32RU 19" 600x1000x1609mm Freestanding server rack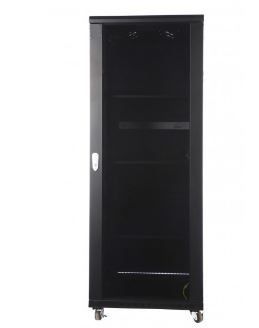 Image for illustration purposes, please see product info
32RU 19" 600x1000x1609mm Freestanding server rack
Manufacturer Code:
002.001.3296
Product Features
Designed to fully accommodate IT installers' requirements and compatible with leading equipment and OEM brands, this 32RU 600x1000x1609mm full-height server rack combines best value with optimum ease of use. Delivered fully assembled, the server rack barely needs any additional set up.

Patch panels, routers, small servers, switches, rack mount communication security PABX equipment, DVR or phone systems network: the 32RU server rack is generously sized and equipped to house any type of application you need.

Cost-effective design elements include an extremely sturdy, welded solid steel construction and a solid top and base plus removable side panels. As accessibility is paramount, the roof and base gland plates can be removed to easily install and maintain your cabling network. The front glass doors are lockable to secure your valuable rack equipment.

Product Info
- 32RU 19" Full-height server rack 600x1000x1609mm wxdxh
- Delivered fully assembled
- Ideally equipped to accommodate any type of application
- Reversible glass front door, solid steel side and back door
- All doors lockable for security
- 4-Way ceiling mount fan kit
- 6-Way rack mount power rail
- (3) fixed shelves
- Adjustable 19" L-rails front & rear
- Easy cable access via removable top and bottom gland plates
- Sturdy, lockable castor wheels and levelling feet
- Earthed doors and side panels
- Includes 40 sets of cage nuts
- Loading capacity 800 kg

Testing & Certification
- Designed to universal 19" rack standards for complete compatibility
with all leading equipment/OEM brands
- 3 Years manufacturer's warranty
Customer Reviews and Ratings
No Reviews
Be the first to review this product!