Home

/

Custom Cables | QCC Custom Cables | Australia
Custom Cables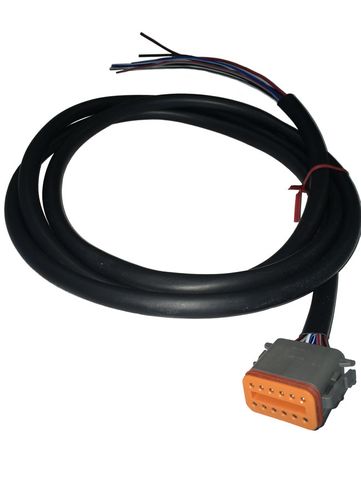 Custom cables can be used to reduce the footprint of your equipment, make multiple cables easier to manage or even connect disparate equipment.
Although they can be simple or complex in design and functionality, a custom cable is essentially made up of two connectors with wire in between. It's the intended operating environment that often adds complexity to the design, such as when special sheathing or an IP rating is required to withstand exposure to certain elements.
If you have a project that requires a custom cable solution, the experts at QCC Custom Cables can help.
Based in Queensland and servicing clients Australia-wide, we have over 30-years experience across a wide range of industries.
When are custom cables required?
If you can't get the cables you need for your project "off the shelf", then you'll need to consider getting some custom ones designed and assembled.
There's an abundance of 2m blue patch leads available from cable suppliers. But if your project requires a 2.58m patch lead with a green boot on one end and a red one on the other, then you'll need to get it custom made.
Another reason you may to get a custom cable made is when your equipment needs Active cables rather than Passive cables. Active cables incorporate some level of integrated circuit technology either in the connectors or the actual cable which change the signal from one end to the other.
For example, a USB dongle is a type of active cable. It can usually take the voltage it needs to drive the integrated circuit (chipset) from the USB port to allow a laptop or server to communicate with specialty printers or scanners used in the publishing industry. In other cases, the cable may have to draw power from a separate source.
Passive cables, on the other hand, are used to transmit the same information or signal from one end to the other without change.
A custom made Active cable can be used to convert signals from a piece of legacy equipment to a piece of modern equipment. Or they can be designed to have the capacity to amplify a certain signal when repeated over long distances.
Active cables are particularly valuable in industries, such as the military, where different standards exist for different pieces of equipment used in the same field. They can resolve the difficulty of getting certain pieces of equipment to talk to each other.
Another important reason to use a custom cable is when you need to integrate a number of separate cables into the one cable.
You might be using bundles of cables to connect two pieces of equipment together. But a single custom cable cable could be used to keep them all in one neat unit.
A well-made custom cable can be designed around certain electrical properties to ensure everything works seamlessly whilst reducing the overall volume of cables.
Design considerations for custom cables
The environment a custom cable will be exposed to needs to be carefully considered in order to incorporate sufficient protection measures in the design.
Common design considerations can include:
Will the cable require sheathing for protection against fire, fuel, gases or high temperatures?
Is UV treatment required for exposure to the sun?
Does the cable require a high level of strain relief?
Is moisture protection required for exposure in refrigerated environments?
Will there be exposure to vibration and heat from an engine?
An in-depth understanding of the impact certain environments and elements have on cabling is required in order to to ensure a custom cable will stand the test of time. Otherwise, your cables will be at risk of damage, and ultimately, failure.
Your custom cable build process
Every custom cable project is different. This is why the team at QCC Custom Cables will always work closely with you to ensure your project is completed in full and on time.
The process will usually begin with an initial consultation with you so we can discuss your project objectives, challenges and timeframes prior to putting together a proposal.
We can design a cable for you from scratch, assemble a cable as per your existing specifications or provide assistance by working your PCB designers to come up with a solution.
Our team will ensure the material selection is appropriate for your project and take into account the required product lifecycle.
Depending on the scale of your project, we will determine whether a cabling prototype or sample will be required for preliminary testing purposes. Once the prototype has been tested, we will take on board your feedback and make improvements if required to ensure you are completely happy.
When we've received your approval to proceed, we will lock your custom cable project into our workflow and provide you with accurate scheduling for completion.
Your cables will be thoroughly tested before leaving our premises. In cases of complex cables, they are often tested multiple times.
If you have a project that requires a custom cabling solution anywhere in Australia, call the experts at QCC Custom Cables.
Our highly knowledgeable team have designed and assembled custom cables for applications in a wide range of sectors including:
Automotive
Emergency Services
Mining
Manufacturing (OEM)
Robotics
Medical/Health
Telecommunications
Audio visual
IT
Marine
Our team have the expertise and access to the right equipment to deliver a workable solution for you, in full and on time.
For more information and advice, click here to contact QCC Custom Cables.